Shopify vs WooCommerce has been an ongoing debate in eCommerce website development for several years. The proponents of each platform argue in favor of their preferred choice. If you ask a Shopify development company, they will give countless reasons to show that Shopify is the best platform.
If you ask a WordPress development company the same question, they will favor WooCommerce. No doubt that these opinions are biased as they come from experts within their respective fields. Unfortunately, it leaves eCommerce store owners in a difficult position as to which web development agency should they select.
If they rely on such biased opinions, they must deal with the consequences. The platform might not support their business model, the desired functionality, or scale up as the business expands. On top of it, no amount of Googling can help them decide the best platform.
But there is no cause for worry as we will help you make this decision easily. We will compare the two platforms based on different factors. These factors will be relevant to eCommerce stores. Before discussing Shopify vs WordPress or WooCommerce, it is vital to develop a comprehensive understanding of the platforms first.
Understanding Shopify and WooCommerce
Shopify provides a user-friendly way to create and manage an eCommerce store within minutes. One of its standout features is the ability to sell products across various channels, including social media, online marketplaces, and physical retail stores. In other words, Shopify is the go-to platform for online and offline businesses.
With Shopify being entirely cloud-hosted, you can access and operate your store seamlessly from any compatible device without worrying about hardware or software compatibility issues. Shopify development companies often emphasize this advantage, as it eliminates the need for complex infrastructure setups.
In contrast, WooCommerce is an open-source plugin for WordPress, the most widely used content management system globally. It powers nearly 40% of all websites. By leveraging the power and simplicity of WordPress, WooCommerce enables you to create highly customized eCommerce stores.
Which is Better – Shopify or WooCommerce
1. Pricing
One of the first concerns for any eCommerce store owner is the pricing. No one wants to overpay for something which does not offer any real value. When it comes to pricing, WooCommerce is the best possible choice. You can find dedicated WooCommerce hosting for as low as $10.
The below picture shows Bluehost's dedicated WooCommerce hosting plans and their features.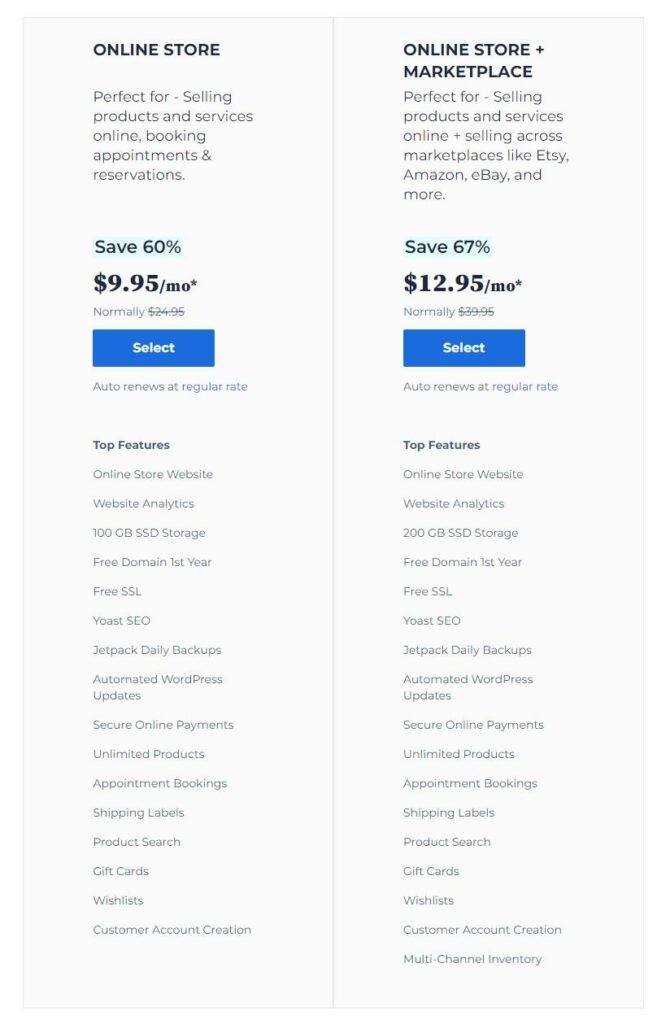 Figure 1. Source: Bluehost
Shopify's basic plan starts at $25. The problem is that this plan lacks several vital features. What we are trying to say is that Shopify is forcing you to buy its more advanced plans.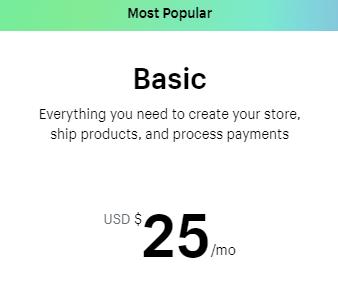 Figure 2. Source: Shopify
You will have to pay more for necessary add-ons. Thus, solely considering budget, WooCommerce is a recommended option. However, we never recommend basing a decision on a single factor alone.
Winner: WooCommerce
2. Security
Indeed, security is key to long-term business success and customer satisfaction. If your eCommerce store keeps experiencing data breaches, then it will lead to a loss of customer trust. Depending on your country's relevant laws, you may even be hit with fines. Therefore, regardless of your business nature, never compromise on data security if you wish to achieve long-term success.
Shopify offers robust security features, including a free SSL certificate and PCI-DSS (Payment Card Industry Data Security Standard) compliance. Credit companies have established the standard, and it ensures that cardholder data is secure. Undoubtedly, these features go a long way in enhancing the store's security and improving customer trust.
In contrast, WooCommerce and WordPress have limited default security features, requiring additional measures to enhance security. If you are not an expert, then your eCommerce store is bound to lack robust security measures. Cybercriminals will find a way to exploit security vulnerabilities. Hiring a third party for this purpose will substantially increase your operating costs.
Winner: Shopify
3. Plugins
When it comes to plugins or third-party extensions, Shopify is quite unpopular. It has fewer plugins primarily due to its strict approval process, but it ensures that every plugin on Shopify is top-quality. WooCommerce benefits from the vast library of WordPress plugins, offering easy integration with a single click.
We don't mean to say that quantity takes precedence over quality. Nevertheless, the variety is a plus point. On top of it, WooCommerce provides numerous free plugins, which is comparatively rare in Shopify. So, when it comes to plugins, we will let you decide which is the better option.
Winner: Both
4. Scalability
As an eCommerce store grows, the platform's ability to support that growth becomes essential. There is no eCommerce platform that beats Shopify in scalability. You don't have to worry about technical aspects or anything else when your business expands. All you would need to do is upgrade your Shopify plan and nothing else.
WooCommerce is the complete opposite. Unless you are a WooCommerce expert, you must hire an expert WooCommerce development company to scale your store as the business experiences growth. You will need to undertake layout redesigns, add new functionality, and address other challenges.
Winner: Shopify
5. Payment Methods
Both WooCommerce and Shopify offer similar payment mechanisms. However, Shopify charges transaction fees, which can deter customers from completing purchases. After all, no one wants to pay extra, especially when they can buy a similar product for less. While using Shopify Payments exempts these fees, WooCommerce, with no transaction fees, has an advantage in this category.
Winner: WooCommerce
6. Convenience
Setting up a WooCommerce store requires the assistance of a WordPress development company. In contrast, Shopify offers a user-friendly interface where store setup can be completed within minutes by clicking a few buttons. It makes it ideal for eCommerce store owners without any technical knowledge or the resources to hire a professional eCommerce store development company.
Winner: Shopify
7. Search Engine Optimisation (SEO)
The first thing after setting up your eCommerce store is to improve its online visibility. You may need to hire a digital marketing agency for this purpose. The right eCommerce platform can greatly benefit the SEO strategy. WooCommerce has an edge over other platforms when it comes to SEO. It allows easy implementation of SEO practices such as 301 redirects, meta descriptions, alt tags, and content editing.
Furthermore, if head to WordPress right now, you will see an extensive library of dedicated SEO plugins. It further simplifies the entire SEO process and allows for quick ranking on top of the search engine results page. Shopify has limitations regarding URL editing, the use of JavaScript hindering crawler access, and other aspects. It makes SEO a bit of a challenge.
Winner: WooCommerce
8. Blog
A blog is a vital part of the SEO strategy and a great way to engage with your customers. WordPress was initially a blogging platform. So, it makes sense that WooCommerce is better for adding and managing a blog section. While it is certainly true, Shopify is not far behind. Over the years, it has made substantial improvements in its blogging feature.
Conclusion
There is no doubt that Shopify and WooCommerce are both reliable eCommerce platforms. They offer several benefits but not without limitations. As the discussion shows, if Shopify is better at scalability, then WooCommerce holds the advantage in a number of available plugins.
Therefore, deciding the best eCommerce platform requires you to understand your priorities first. If you value scalability, security, and ease of use, then Shopify is the best choice. If not, then you may want to consider WooCommerce as a possible choice.